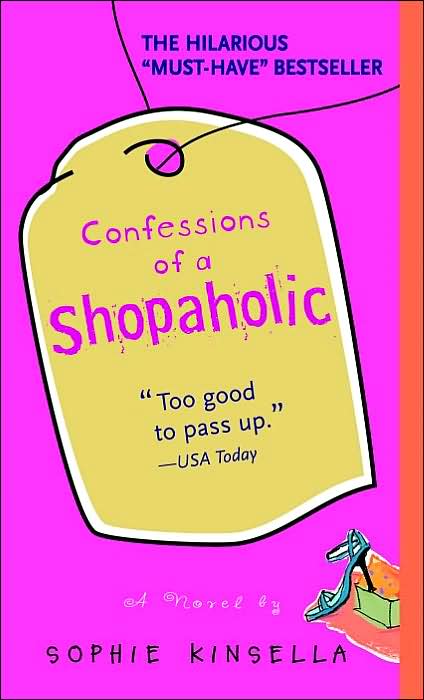 "For anyone with a love-hate relationship with their flexible friend"- COMPANY (LONDON)
"Don't wait for a sale to buy this book!"- ENTERTAINMENT WEEKLY
My friend recommended me this book long before it was turned into a movie. I feigned interest in listening to her go on and on about Sophie Kinsella's books while my mind was somewhere else. When it comes to chick lit, I often pass. I'd rather be caught dead than caught reading it. I've always thought that chick lit is all about make-up, rainbows and unicorns. Yawn!!!
Although Confessions is about shopping, those fab Armani glasses and a whole lot more designer stuff, this book is highly entertaining. Meet the heroine, Becky Bloomwood, an enviable young woman living in a trendy London flat. Becky or Becks is always decked in chic, expensive clothes and has socialite friends. She buys anything she fancies by swiping her credit cards. Judging from her exterior, nobody could guess that she is actually BROKE! And to make matters worse, Becks is actually a financial journalist who writes advice on how to save money!
Follow Becks' journey as she ignores her bills, signs bounced cheques and dodges calls from Derek Smeath, her bank manager who's hot on her trail. Read how she went on a date with Tarquin, her flatmate's cousin and one of the wealthiest men in Scotland. Perhaps she seduced him enough for a small loan? Other characters include her best friend Suze, Becky's parents who think that she's a big shot financial journalist, her neighbours Martin and Janice who think she's still in love with their son, Becks' enemy Sacha and the sexy Luke Brandon.
The writer is witty enough to make Becky a very loveable character much like Elle Woods in Legally Blonde, only smarter and more comical. Even a strictly no chick lit reader like me was greatly entertained. You'd probably want to read this book while alone because you'll be laughing out loud.
(For those who have seen the movie, the book is WAY much better. The movie is disapointing if you are a fan of Sophie Kinsella).
Reviewed by: Haryati Abd Gafur